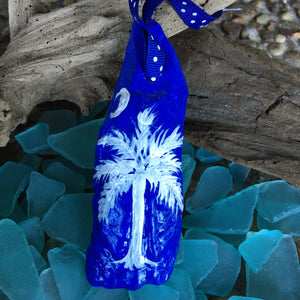 Hand-painted South Carolina Palm and Moon Oyster Ornament
Each shell varies in size and shape.
Says Hilton Head Island on the back.
Hand-crafted locally by Julie Jones.
Julie Jones is a lowcountry native of Hilton Head Island and a lover of all things that represent our beautiful coastal environment!

She is a graduate of The College of Charleston with degrees in both Studio Art and Art History. The Art History degree and its emphasis on Museum Studies led her on a journey and love of non-profit organizations, while her Studio Art degree has kept her forever busy with all things that make a mess, smell like paint, and spark creativity.
​Additionally, she uses local oyster shells hand picked from the beaches of Hilton Head Island to create memorable ornaments, gifts, vacation souvenirs and keepsakes.
We are extremely grateful to have these beautiful works of art in our store and to support our local artists of the lowcountry!