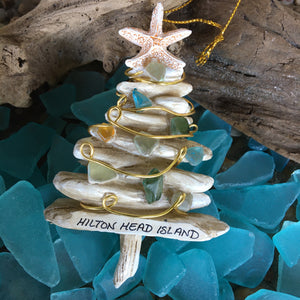 Faux Driftwood Tree with Sea Glass
For sure our favorite ornament! Add a bit of whimsy to your holiday season with our Driftwood Tree With Sea Glass Ornament.  This tree is decorated with colorful sea glass and gold garland. This ornament is the perfect gift for someone who loves the shore or for decorating the beach house. Hilton Head Island is hand-written on the bottom. 
Measures 2.75″ by 4″
Crafted from resin
Pairs great with sister light up driftwood tree.