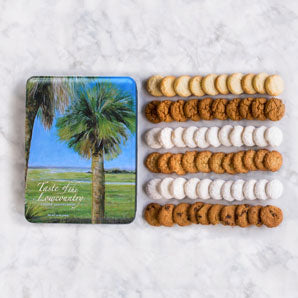 Byrds Cookie Company Cookie Assortment
Byrds Cookie Company Cookie Assortment in a 12 oz. tin. Packed with 6 of the most popular yummy flavors. This  decorative tin features view of  a sunny day of the  Low Country marsh and  palm trees.
Cookie Flavors:
• Key Lime Coolers-A slice of key lime pie inspires this temptingly sweet and tart bite sized cooler cookie. Key lime juice and a citrus powdered sugar coating create a pleasant pucker.
• Georgia Peach Coolers-Sweet, Georgia peach flavor abounds in this bite size cookie that takes the tangy goodness of a tree ripened peach and coats it in powdered sugar reminiscent of rich, flavorful sweet cream.
• Almond Shortbread-Rich and buttery, this bite-sized shortbread cookie is loaded with an almond flavor that rounds out this classic cookie.
• Chocolate Chip-Anything but basic, these rich, crispy, buttery cookies are laced with melt-in-your-mouth chocolate chips that make this treat a favorite.
• Scotch Oatmeal-A family recipe combining oats, cinnamon, vanilla, raisin paste, creates this deliciously crunchy bite sized cookie.
• Benne Wafer-Balancing maple and nutty flavors, this subtly sweet, paper-thin, cookie is light and crispy.
This product may contain trace amounts of powdered milk, eggs, tree nuts and peanuts.

Approximately 84 cookies per tin.

12 oz.
In 1924, Ben T. Byrd, Sr. began baking small batches of cookies from his bakery in Savannah, Georgia, packing them in wooden crates, and personally delivering them to neighborhood markets in his Model T Ford. The cookies were soon christened "Byrd's Famous Cookies" and steadily gained popularity not only locally, but also among visitors who discovered the delicious confections while visiting Savannah. It was Byrd's son, BT Byrd, Jr., who would later go by Cookie Byrd, who had the idea of packing these bite sized confections in tins, so that they would travel better. This idea, paired with his popularizing of the Benne Wafer and the Benne Seed, took the company to a new level. By making these delicious treats transportable, Byrd became a gourmet food company, able to ship cookies to other markets.
Now you can get these great tasting cookies here on Hilton Head. Comes in a decorative tin with a veranda overlooking the ocean  on the front. Collect all the tins or store things in them!